Hyundai Tucson: iPod® Mode / Basic Mode Screen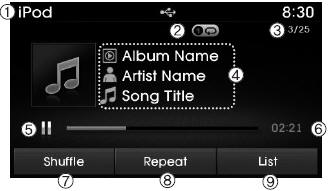 1. Mode Displays currently operating mode.
2. Operation State From Repeat/Random(Shuffle), displays the currently operating function.
3. Song Index Displays the current song/total number of songs.
4. Song Info Displays information about the current song.
5. Play/Pause Changes the play/pause state.
6. Play Time Displays the current play time.
7. Random(Shuffle) Turns the Random(Shuffle) feature on/off.
8. Repeat Turns the Repeat feature on/off.
9. List Moves to the list screen.
✽ NOTICE - USING THE iPod® DEVICE iPod® is a registered trademark of Apple Inc. In order to use the iPod® while operating the keys, you must use a dedicated iPod® cable. (the cable that ...
Playing/Pausing iPod® Songs Once an iPod® is connected, the mode will automatically start and begin playing an iPod® song. While playing, press the button to pause and press button to pla ...
Other information:
Hyundai Tucson (LM) 2010-2015 Service Manual: Pressure Sensor Repair procedures
Inspection If you have trouble code related to the pressure sensor check pressure sensor according to the inspection process. Pressure Sensor Inspection Procedure Measure the resistance of pressure sensor 1. Turn ignition switch OFF. 2. Disconnect the pressure ...
Hyundai Tucson (LM) 2010-2015 Owners Manual: Headrest
The vehicle's front and rear seats have adjustable headrests.The headrests provide comfort for passengers, but more importantly they are designed to help protect passengers from whiplash and other neck and spinal injuries during an accident, especially in a rear impact collision. WARNING T ...