Hyundai Tucson: iPod® Mode / Basic Mode Screen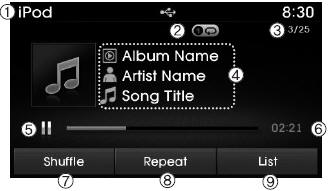 1. Mode Displays currently operating mode.
2. Operation State From Repeat/Random(Shuffle), displays the currently operating function.
3. Song Index Displays the current song/total number of songs.
4. Song Info Displays information about the current song.
5. Play/Pause Changes the play/pause state.
6. Play Time Displays the current play time.
7. Random(Shuffle) Turns the Random(Shuffle) feature on/off.
8. Repeat Turns the Repeat feature on/off.
9. List Moves to the list screen.
✽ NOTICE - USING THE iPod® DEVICE iPod® is a registered trademark of Apple Inc. In order to use the iPod® while operating the keys, you must use a dedicated iPod® cable. (the cable that ...
Playing/Pausing iPod® Songs Once an iPod® is connected, the mode will automatically start and begin playing an iPod® song. While playing, press the button to pause and press button to pla ...