Hyundai Tucson: Exhaust Emission Control System / Catalytic Converter Description and Operation
The catalytic converter of the gasoline engine is a three way catalyst. It oxidizes carbon monoxide and hydrocarbons (HC), and separates oxygen from the oxides of nitrogen (NOx).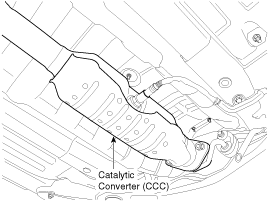 Description Exhaust emissions (CO, HC, NOx) are controlled by a combination of engine modifications and the addition of special control components. Modifications to the combustion chamber, int ...
Description Continuous Variable Valve Timing (CVVT) system advances or retards the valve timing of the intake and exhaust valve in accordance with the ECM control signal which is calculated by ...
Other information:
Hyundai Tucson (LM) 2010-2015 Service Manual: Repair procedures
Inspection 1. After disconnecting the vapor hose from the PCV valve, remove the PCV valve. 2. Reconnect the PCV valve to the vapor hose. 3. Run the engine at idle, then put a finger over the open end of the PCV valve and make sure that intake manifold vacuum can be felt. &nbsp ...
Hyundai Tucson (LM) 2010-2015 Service Manual: Repair procedures
Removal 1. Disconnect the negative (-) battery terminal. 2. Remove the steering column upper and lower shrouds (A) after removing 3 screws. [LHD] [RHD] Take care not to damage and scratch the shrouds and its related parts. Take care not to damage the hook when remov ...
© 2010-2023 www.htmanual.net