Hyundai Tucson: Exhaust Emission Control System / Catalytic Converter Description and Operation
The catalytic converter of the gasoline engine is a three way catalyst. It oxidizes carbon monoxide and hydrocarbons (HC), and separates oxygen from the oxides of nitrogen (NOx).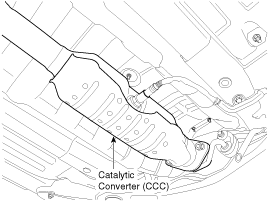 Description Exhaust emissions (CO, HC, NOx) are controlled by a combination of engine modifications and the addition of special control components. Modifications to the combustion chamber, int ...
Description Continuous Variable Valve Timing (CVVT) system advances or retards the valve timing of the intake and exhaust valve in accordance with the ECM control signal which is calculated by ...
Other information:
Hyundai Tucson (LM) 2010-2015 Owners Manual: Blade inspection
Contamination of either the windshield or the wiper blades with foreign matter can reduce the effectiveness of the windshield wipers. Common sources of contamination are insects, tree sap, and hot wax treatments used by some commercial car washes. If the blades are not wiping properly, clea ...
Hyundai Tucson (LM) 2010-2015 Service Manual: Compass Mirror Description and Operation
Description The compass feature is designed to be integrated into an electro chromic interior rearview mirror. The mirror assembly shall display a compass heading. The compass mirror then take the sensor information to determine static field strengths and rotating field information to deter ...
© 2010-2021 www.htmanual.net