Hyundai Tucson: Engine oil / Checking the engine oil and filter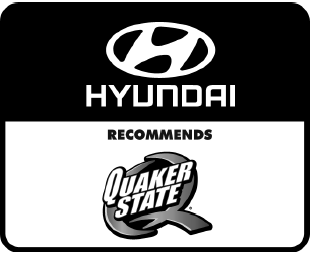 Have engine oil and filter changed by an authorized HYUNDAI dealer according to the Maintenance Schedule at the beginning of this chapter.
WARNING
CALIFORNIA PROPOSITION 65 WARNING
Engine oil contains chemicals known to the State of California to cause cancer, birth defects and reproductive harm. Used engine oil may cause irritation or cancer of the skin if left in contact with the skin for prolonged periods of time. Always protect your skin by washing your hands thoroughly with soap and warm water as soon as possible after handling used oil.
1. Follow all of the oil manufacturer's precautions. 2. Be sure the vehicle is on level ground in P (Park) with the parking brake set and the wheels blocked. 3. Turn the engine on and allow the ...
The high-pressure cooling system has a reservoir filled with year-round antifreeze coolant. The reservoir is filled at the factory. Check the antifreeze protection and coolant level at least once a ...
Other information:
Hyundai Tucson (LM) 2010-2015 Service Manual: Hands Free Mic Repair procedures
Inspection 1. Disconnect the negative(-) battery terminal. 2. Remove the roof trim. (Refer to the BD group - "Roof trim") 3. Remove the hands free mic (A) after loosening the connector and screws (3EA) from loof top. 4. Check the continuity of Mic between terminals. ...
Hyundai Tucson (LM) 2010-2015 Owners Manual: Tire sidewall labeling
This information identifies and describes the fundamental characteristics of the tire and also provides the tire identification number (TIN) for safety standard certification. The TIN can be used to identify the tire in case of a recall. 1. Manufacturer or brand name Manufacturer or brand na ...