Hyundai Tucson: Engine Control System / Crankshaft Position Sensor (CKPS) Troubleshooting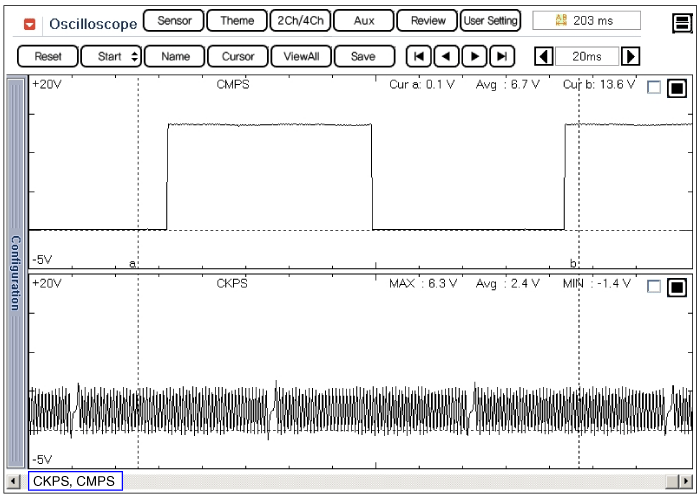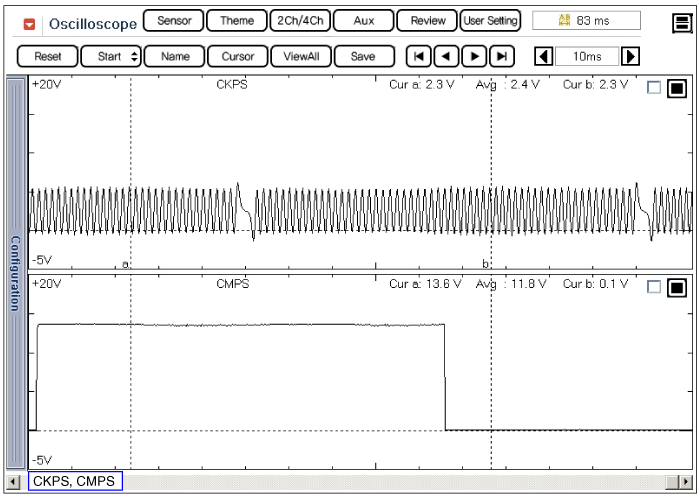 This example shows a typical Crankshaft Position Sensor(CkPS) and Camshaft Position Sensor(CMPS) waveform at idle.The PCM controls the injection and ignition timing by using these signals.
Generally CkPS signal is used to detect the piston's position and CMPS signal is used to detect the Top Dead Center of each cylinder.
Specification ItemSpecificationCoil Resistance (x)774 ~ 946 [20°C (68°F)] ...
Circuit Diagram (M/T) (A/T) ...
Other information:
Hyundai Tucson (LM) 2010-2015 Owners Manual: Rocking the vehicle
If it is necessary to rock the vehicle to free it from snow, sand, or mud, first turn the steering wheel right and left to clear the area around your front wheels. Then, shift back and forth between R (Reverse) and a forward gear. Try to avoid spinning the wheels, and do not race the engine. ...
Hyundai Tucson (LM) 2010-2015 Service Manual: Description and Operation
Description Emissions Control System consists of three major systems. • The Crankcase Emission Control System prevents blow-by gas from releasing into the atmosphere. This system recycles gas back into the intake manifold (Closed Crankcase Ventilation Type). • The Evaporative Em ...
© 2010-2021 www.htmanual.net