Hyundai Tucson: Engine Control System / Crankshaft Position Sensor (CKPS) Troubleshooting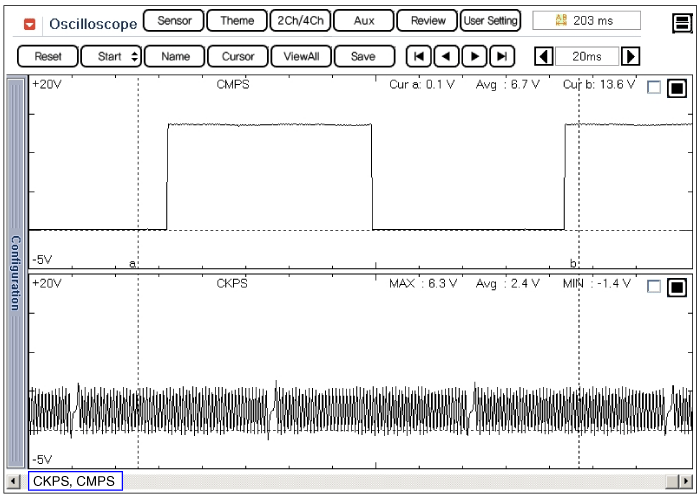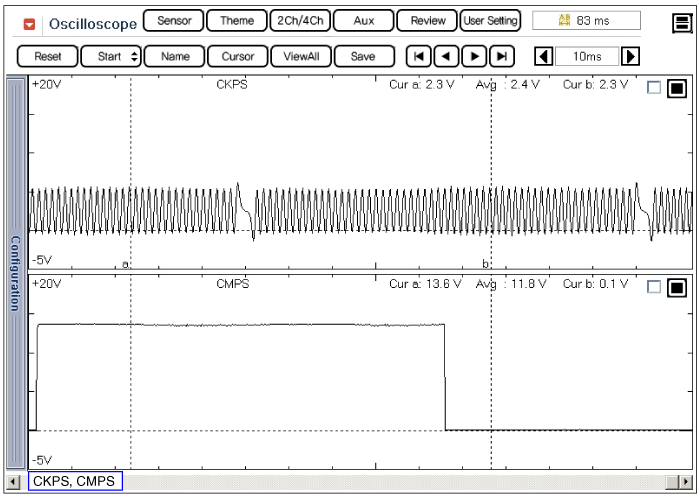 This example shows a typical Crankshaft Position Sensor(CkPS) and Camshaft Position Sensor(CMPS) waveform at idle.The PCM controls the injection and ignition timing by using these signals.
Generally CkPS signal is used to detect the piston's position and CMPS signal is used to detect the Top Dead Center of each cylinder.
Specification ItemSpecificationCoil Resistance (x)774 ~ 946 [20°C (68°F)] ...
Circuit Diagram (M/T) (A/T) ...
Other information:
Hyundai Tucson (LM) 2010-2015 Service Manual: Special Service Tools
Special Service Tools Tools(Number and name)IllustrationUse09200-3N000Engine support fixture(Beam)Removal and installation of the transaxle.Use this beam (SST No. : 09200-38001/09200-3N000) with the supporter (SST No. : 09200-2S000).09200-2S000Engine support fixture(Adapter)Removal and installa ...
Hyundai Tucson (LM) 2010-2015 Service Manual: Schematic Diagrams
Schematic Diagram Canister The Canister is filled with charcoal and absorbs evaporated fuel vapor from the fuel tank. The gathered fuel vapor in canister is drawn into the intake manifold by the ECM/PCM when appropriate conditions are set. Purge Control Solenoid Valve (PCSV) The Purge ...
© 2010-2020 www.htmanual.net