Hyundai Tucson: Engine Control System / Crankshaft Position Sensor (CKPS) Troubleshooting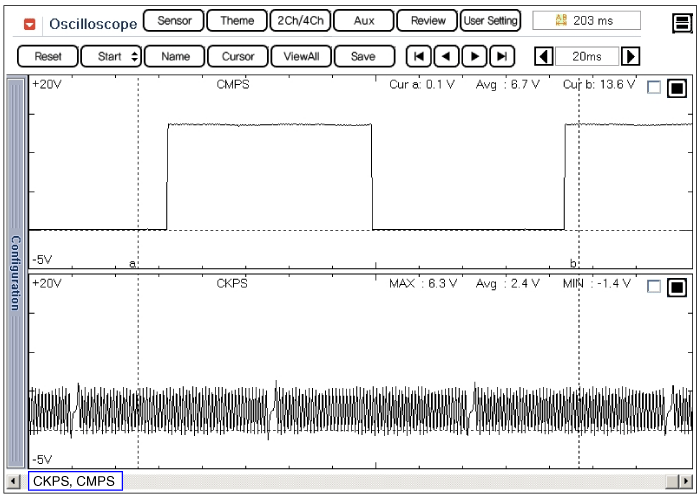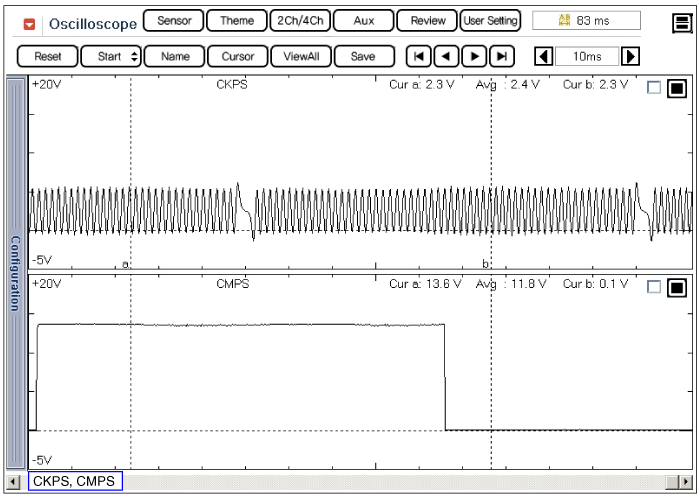 This example shows a typical Crankshaft Position Sensor(CkPS) and Camshaft Position Sensor(CMPS) waveform at idle.The PCM controls the injection and ignition timing by using these signals.
Generally CkPS signal is used to detect the piston's position and CMPS signal is used to detect the Top Dead Center of each cylinder.
Specification ItemSpecificationCoil Resistance (x)774 ~ 946 [20°C (68°F)] ...
Circuit Diagram (M/T) (A/T) ...
Other information:
Hyundai Tucson (LM) 2010-2015 Service Manual: Specifications
Specifications Front Suspension ItemSpecificationSuspension typeMacPherson StrutShock absorberTypeGasH.P.D [High Perpormence Damper]Coil springFree Height [I.D. color]326.6 mm (12.64 in.) [Brown -Yellow]310.4 mm (12.60 in.) [Brown -Red]324.2 mm (11.59 in.) [Brown - Violet]331.4 mm (11.90 in.) ...
Hyundai Tucson (LM) 2010-2015 Owners Manual: 3. Exhaust emission control system
The Exhaust Emission Control System is a highly effective system which controls exhaust emissions while maintaining good vehicle performance. When the engine starts or fails to start, excessive attempts to restart the engine may cause damage to the emission system. Vehicle modifications Th ...
© 2010-2021 www.htmanual.net