Hyundai Tucson: Interior rearview mirrors / Day/Night rearview mirror (if equipped)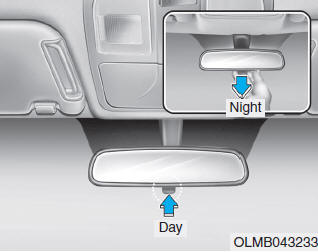 Make this adjustment before you start driving and while the day/night lever is in the day position.
Pull the day/night lever toward you to reduce headlight glare from vehicles behind you during night driving.
Remember that you lose some rearview clarity in the night position.
Before you start driving, adjust the rearview mirror to the center on the view through the rear window. WARNING Make sure your line of sight is not obstructed. Do not place objects in the rear s ...
The electric rearview mirror automatically controls the glare from the headlights of the car behind you in nighttime or low light driving conditions. When the engine is running, the glare is automa ...
Other information:
Hyundai Tucson (LM) 2010-2015 Owners Manual: Remote key precautions
The remote key will not work if any of the following occur: The key is in the ignition switch. You exceed the operating distance limit (about 30 m [90 feet]). The remote key battery is weak. Other vehicles or objects may be blocking the signal. The weather is extremely cold. The remote ...
Hyundai Tucson (LM) 2010-2015 Owners Manual: Aluminum and chrome wheel maintenance
The aluminum and chrome wheels are coated with a clear protective finish. CAUTION Do not use abrasive cleaner, polishing compound, solvent, or wire brushes on aluminum or chrome wheels. Clean the wheel when it has cooled. Use only a mild soap or neutral detergent, and rinse thoroughly wi ...