Hyundai Tucson: ESC(Electronic stability system) System / ESC Control Unit Repair procedures
| | |
| --- | --- |
| 1. | Turn the ignition switch OFF. |
2.

Disconnect the brake tubes from the HECU by unlocking the nuts counterclockwise with a spanner.

---

ABS : 12.7 ~ 16.7N.m(1.3 ~ 1.7kgf.m, 9.4 ~ 12.3lb-ft)

ESC : 18.6 ~ 22.6N.m(1.9 ~ 2.3kgf.m, 13.7 ~ 16.6lb-ft)

---
| | |
| --- | --- |
| 3. | Pull up the lock of the HECU connector , then disconnect the connector. |
4.

Loosen the HECU bracket bolts (A) and nut (B), then remove HECU and bracket.

---

16.7 ~ 25.5N.m(1.7 ~ 2.6kgf.m, 12.3 ~ 18.8lb-ft)

---

| | |
| --- | --- |
| 1. | Never attempt to disassemble the HECU. |

| | |
| --- | --- |
| 2. | The HECU must be transported and stored in. |

| | |
| --- | --- |
| 3. | |
5.

Remove the 3 bolts, then remove the bracket from HECU.

---

10.8 ~ 13.7N.m(1.1 ~ 1.4kgf.m, 8.0 ~ 10.1lb-ft)

---
| | |
| --- | --- |
| 1. | Installation is the reverse of removal. |
| | |
| --- | --- |
| 2. | Tighten the HECU mounting bolts and nuts to the specified torque. |
| | |
| --- | --- |
| 3. | After installation, bleed the brake system. |
4.

2WD and 4WD vehicle are sharing the HECU each other. To apply appropriate vehicle, HECU needs to variant coding process.

Variant coding process is necessary when :

| | |
| --- | --- |
| B. | C1702 DTC(variant coding error) code is detected. |

Perform the Variant coding.
5.

Perform the Longitudinal Sensor Calibration.

(Refer to ESC (Electronic stability system) - "Longitudinal G Sensor")
[Auto Detected Sensor Calibration]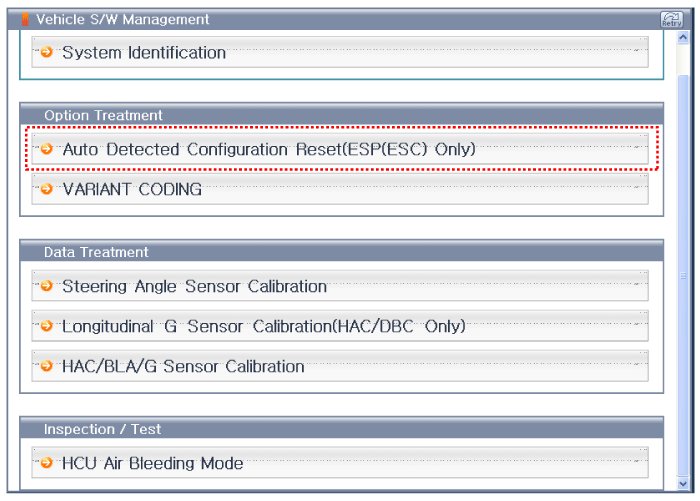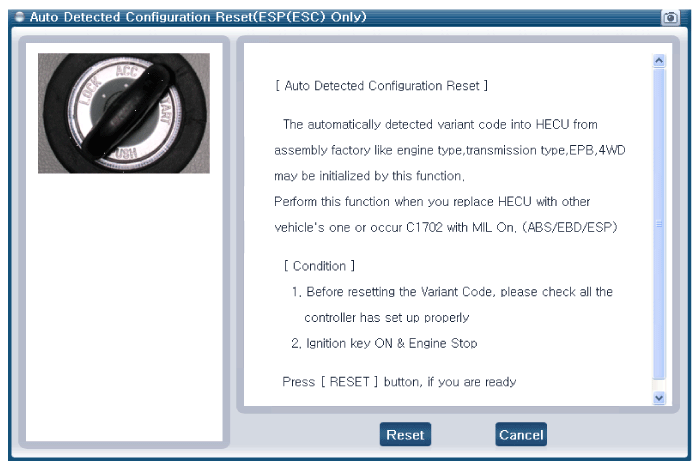 [Hill Start Assist Control Setting]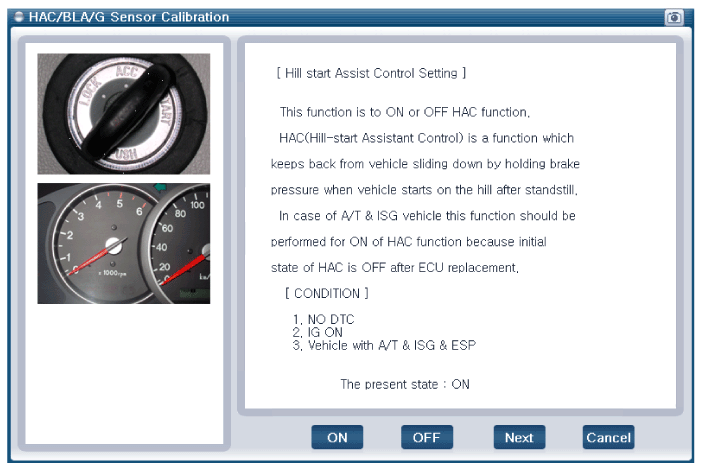 [Longitudinal G Sensor Calibration]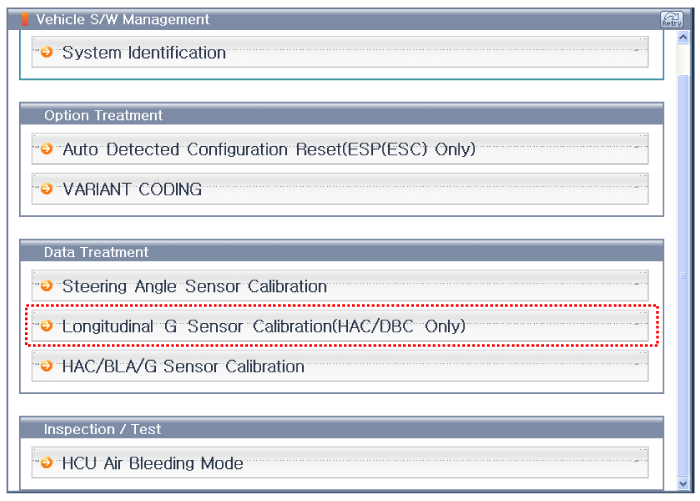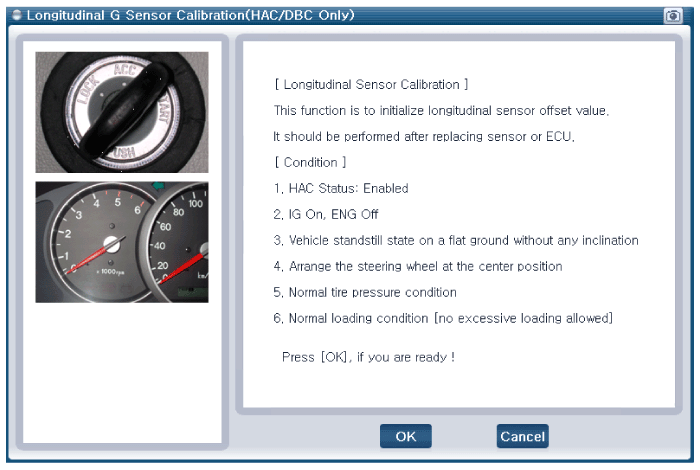 Components (1) 1. Front - left tube2. Rear - right tube3. Rear - left tube4. Front - right tube5. MC26. MC17. ESC control module connector8. ESC control module(HECU)9. Damper10. Bracket Componen ...
Description When the vehicle is turning with respect to a vertical axis the yaw rate sensor detects the yaw rate electroniclly by the vibration change of plate fork inside the yaw rate sensor. ...