Hyundai Tucson: ESC(Electronic stability system) System / Yaw-rate and G Sensor Description and Operation
When the vehicle is turning with respect to a vertical axis the yaw rate sensor detects the yaw rate electroniclly by the vibration change of plate fork inside the yaw rate sensor.
If yaw velocity reaches the specific velocity after it detects the vehicle'yawing, the ESP control is reactivated.
The later G sensor senses vehicle's lateral G. A small element inside the sensor is attached to a deflectable leverarm by later G.
Direction and magnitude of lateral G loaded to vehicle can be known with electrostatic capacity changing according to lateral G.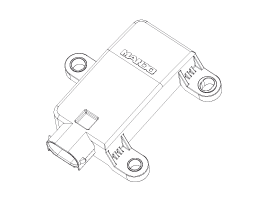 Specifications
Description




Specification




Remarks




Operating voltage




10 ~ 16V






Output signal




CAN Interface






Operating temperature




-40 ~ 85°C (-40 ~ 185°F)






Yaw-rate sensor




Operating range




-75 ~ 75°/sec






Frequency response




15 ~ 45Hz






Lateral G sensor




Operating range




-14.75 ~ 14.75m/sx






Frequency response




50Hz ± 60%





External Diagram

Removal 1. Turn the ignition switch OFF. 2. Disconnect the brake tubes from the HECU by unlocking the nuts counterclockwise with a spanner. Tightening torque : ABS : 12.7 ~ 16.7N.m(1.3 ~ 1 ...
Removal 1. Turn ignition switch OFF and disconnect the negative (-) battery cable. 2. Remove the floor console. 3. Disconnect the yaw rate & lateral & Longitudinal G sensor connect ...
Other information:
Hyundai Tucson (LM) 2010-2015 Service Manual: Repair procedures
Operation and Leakage Check Check all of the following items : ComponentProcedureBrake Booster (A)Check brake operation by applying the brakes during a test drive. If the brakes do not work properly, check the brake booster. Replace the brake booster as an assembly if it does not work proper ...
Hyundai Tucson (LM) 2010-2015 Owners Manual: 105,000 miles (168,000 km) or 84 months
Rotating tires Inspect air cleaner filter Inspect vacuum hose Inspect air conditioning refrigerant Inspect brake hoses and lines Inspect drive shafts and boots Inspect exhaust pipe and muffler Inspect front brake disc/pads, calipers Inspect propeller shaft (AWD) Inspect rear bra ...