Hyundai Tucson: ESC(Electronic stability system) System / Yaw-rate and G Sensor Description and Operation
When the vehicle is turning with respect to a vertical axis the yaw rate sensor detects the yaw rate electroniclly by the vibration change of plate fork inside the yaw rate sensor.
If yaw velocity reaches the specific velocity after it detects the vehicle'yawing, the ESP control is reactivated.
The later G sensor senses vehicle's lateral G. A small element inside the sensor is attached to a deflectable leverarm by later G.
Direction and magnitude of lateral G loaded to vehicle can be known with electrostatic capacity changing according to lateral G.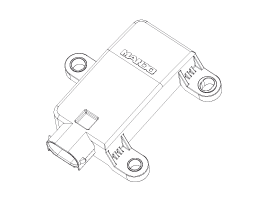 Specifications
Description




Specification




Remarks




Operating voltage




10 ~ 16V






Output signal




CAN Interface






Operating temperature




-40 ~ 85°C (-40 ~ 185°F)






Yaw-rate sensor




Operating range




-75 ~ 75°/sec






Frequency response




15 ~ 45Hz






Lateral G sensor




Operating range




-14.75 ~ 14.75m/sx






Frequency response




50Hz ± 60%





External Diagram

Removal 1. Turn the ignition switch OFF. 2. Disconnect the brake tubes from the HECU by unlocking the nuts counterclockwise with a spanner. Tightening torque : ABS : 12.7 ~ 16.7N.m(1.3 ~ 1 ...
Removal 1. Turn ignition switch OFF and disconnect the negative (-) battery cable. 2. Remove the floor console. 3. Disconnect the yaw rate & lateral & Longitudinal G sensor connect ...
Other information:
Hyundai Tucson (LM) 2010-2015 Service Manual: Receiver-Drier Repair procedures
Replacement 1. Remove the condenser, and then remove the bottom cap (B) with L wrench (A) from the condenser. Tightening torque : 20 ~ 25 N.m (2.0 ~ 2.5 kgf.m, 14.5 ~ 18.2 lb-ft) 2. Remove the desiccant (A) from condenser using a long nose plier. Check for crumbled desiccant and cl ...
Hyundai Tucson (LM) 2010-2015 Owners Manual: Blade inspection
Contamination of either the windshield or the wiper blades with foreign matter can reduce the effectiveness of the windshield wipers. Common sources of contamination are insects, tree sap, and hot wax treatments used by some commercial car washes. If the blades are not wiping properly, clea ...