Hyundai Tucson: Engine Control System / ETC (Electronic Throttle Control) System Specifications
[Throttle Position Sensor (TPS)]
Throttle angle(°)




Output Voltage (V)




TPS1




TPS2




0




0.5




4.5




10




0.96




4.05




20




1.41




3.59




30




1.87




3.14




40




2.32




2.68




50




2.78




2.23




60




3.23




1.77




70




3.69




1.32




80




4.14




0.86




90




4.6




0.41




98




4.65




0.35




C.T (0)




0.5




4.5




W.O.T (86)




4.41




0.59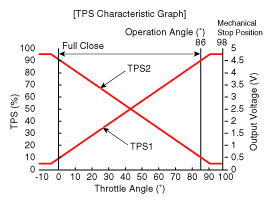 [ETC Motor]
| | |
| --- | --- |
| Item | Specification |
| Coil Resistance (x) | 0.3 ~100 [20°C(68°F)] |
Fail-Safe Mode ItemFail-SafeETC MotorThrottle valve stuck at 7°TPSTPS 1 faultECM looks at TPS2TPS 2 faultECM looks at TPS1TPS 1,2 faultThrottle valve stuck at 7°APSAPS 1 faultECM looks at APS 2 ...
Circuit Diagram (M/T) (A/T) ...
Other information:
Hyundai Tucson (LM) 2010-2015 Owners Manual: Checking the engine coolant level
WARNING Never remove the radiator cap or the drain plug while the engine and radiator are hot. Hot coolant and steam may blow out under pressure, causing serious injury. Turn the engine off and wait until the engine cools down. Use extreme care when removing the radiator cap. Wrap a thick ...
Hyundai Tucson (LM) 2010-2015 Service Manual: Specifications
Specifications Audio ItemSpecificationModelRADIO/CD/MP3 (PA30A)RADIO/CDC/MP3 (PA30B)Power supplyDC 14.4VLoad impedance4x X 4Antenna80PF 75xTuning typePLL SYNTHESIZED TUNINGFrequency range / Channel spaceFM87.5~107.9 MHz / 200KHzAM530~1710 KHz (10KHz) Speaker ItemPA30A/30BAVNInput Power(W or ...
© 2010-2020 www.htmanual.net