Hyundai Tucson: Engine Control System / Intake Air Temperature Sensor (IATS) Description and Operation
Intake Air Temperature Sensor (IATS) is included inside Manifold Absolute Pressure Sensor and detects the intake air temperature.
To calculate precise air quantity, correction of the air temperature is needed because air density varies according to the temperature. So the ECM uses not only MAPS signal but also IATS signal. This sensor has a Negative Temperature Coefficient (NTC) Thermister and it's resistance changes in reverse proportion to the temperature.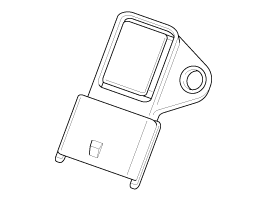 Inspection 1. Connect the GDS on the Data Link Connector (DLC). 2. Measure the output voltage of the MAPS at idle and IG ON. Specification: Refer to "Specification" Removal 1. Tur ...
Specification TemperatureResistance (kx)°C°F-40-4040.93 ~ 48.35-20-413.89 ~ 16.030325.38 ~ 6.0910503.48 ~ 3.9020682.31 ~ 2.57401041.08 ~ 1.21501221.56 ~ 1.74601400.54 ~ 0.62801760.29 ~ 0.34 ...
Other information:
Hyundai Tucson (LM) 2010-2015 Owners Manual: Standard programming
To train most devices, follow these instructions: 1. For first-time programming, press and hold the two outside buttons, HomeLink® Channel 1 and Channel 3 Buttons, until the indicator light begins to flash (after 20 seconds). Release both buttons. Do not hold the buttons for longer than 30 se ...
Hyundai Tucson (LM) 2010-2015 Service Manual: Components and Components Location
Component Location ItemDescriptionSPASSPAS unit(ECU)• Calculate the parking trace of wheels • Calculate and ask the demand angle to MDPS• Warning and detection logic of the front/rear objectFront/Rear sensor• Detect the front/rear objectSide sensor• Check the parking areaBuzzer• Mak ...
© 2010-2020 www.htmanual.net