Hyundai Tucson: Engine Control System / Intake Air Temperature Sensor (IATS) Description and Operation
Intake Air Temperature Sensor (IATS) is included inside Manifold Absolute Pressure Sensor and detects the intake air temperature.
To calculate precise air quantity, correction of the air temperature is needed because air density varies according to the temperature. So the ECM uses not only MAPS signal but also IATS signal. This sensor has a Negative Temperature Coefficient (NTC) Thermister and it's resistance changes in reverse proportion to the temperature.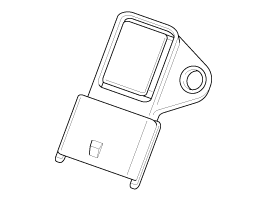 Inspection 1. Connect the GDS on the Data Link Connector (DLC). 2. Measure the output voltage of the MAPS at idle and IG ON. Specification: Refer to "Specification" Removal 1. Tur ...
Specification TemperatureResistance (kx)°C°F-40-4040.93 ~ 48.35-20-413.89 ~ 16.030325.38 ~ 6.0910503.48 ~ 3.9020682.31 ~ 2.57401041.08 ~ 1.21501221.56 ~ 1.74601400.54 ~ 0.62801760.29 ~ 0.34 ...
Other information:
Hyundai Tucson (LM) 2010-2015 Service Manual: Description and Operation
Description The ECM (Electro Chromatic inside rear view Mirror) is for dimming the reflecting light from a vehicle behind at night, in order the user not to be dazzled by the light. The forward facing sensor detects brightness of the surroundings, while the rearward looking sensor the str ...
Hyundai Tucson (LM) 2010-2015 Service Manual: Components and Components Location
Components Location 1. Engine Control Module (ECM)2. Manifold Absolute Pressure Sensor (MAPS)3. Intake Air Temperature Sensor (IATS)4. Engine Coolant Temperature Sensor (ECTS)5. Throttle Position Sensor (TPS) [integrated into ETC Module]6. Crankshaft Position Sensor (CKPS)7. Camshaft Position ...
© 2010-2019 www.htmanual.net