Hyundai Tucson: Key ignition switch / Key ignition switch positions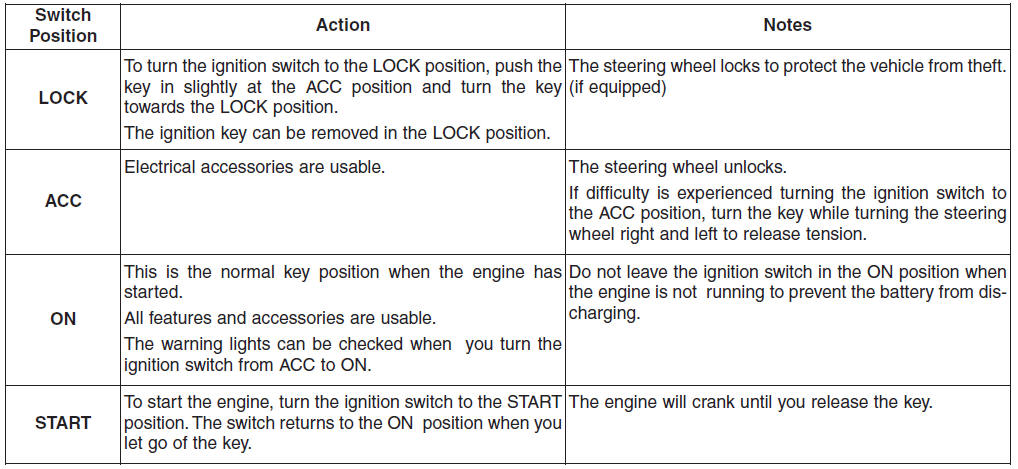 WARNING NEVER turn the ignition switch to the LOCK or ACC position while the vehicle is in motion except in an emergency. This will result in the engine turning off and loss of power assist f ...
WARNING Always wear appropriate shoes when operating your vehicle. Unsuitable shoes, such as high heels, ski boots, sandals, flipflops, etc., may interfere with your ability to use the brake, acc ...
Other information:
Hyundai Tucson (LM) 2010-2015 Owners Manual: Hood
Opening the hood 1. Park the vehicle and set the parking brake. 2. Pull the release lever located under the lower left corner of the dashboard to unlatch the hood. The hood should pop up slightly. 3. Raise the hood slightly, pull the secondary latch (1) inside of the hood center until i ...
Hyundai Tucson (LM) 2010-2015 Service Manual: Troubleshooting
Troubleshooting SymptomPossible causeRemedyOne lamp does not light(all exterior)Bulb burned outReplace bulbSocket, wiring or ground faultyRepair if necessaryHead lamps do not lightBulb burned outReplace bulbIgnition fuse (LOW:10A, HIGH:20A) blownCheck for short and replace fuseHead lamp fuse (1 ...
© 2010-2019 www.htmanual.net