Hyundai Tucson: CD Player : AC111TMAN, AC110TMAN / Media mode
Pressing the

key will change the operating mode in order of CD➟USB(iPod®)➟AUX➟My Music ➟ BT Audio.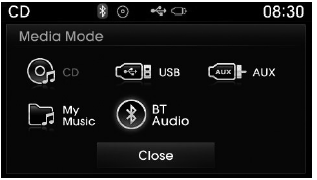 If [Mode Pop up] is turned on within


[Display], then pressing the

key will display the Media Pop-up Mode screen.
Turn the
TUNE knob to move the focus. Press the knob to select.
✽ NOTICE
The media mode pop up screen can be displayed only when there are two or more media modes turned on.
Title Icon
When a Bluetooth® Wireless Technology, iPod®, USB, or AUX device is connected or a CD is inserted, the corresponding mode icon will be displayed.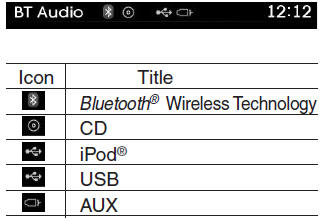 1. Mode Display Displays currently operating mode. 2. Channel Information Displays the category, channel number, channel name, artist and title information. 3. Preset Displays currently playin ...
Other information:
Hyundai Tucson (LM) 2010-2015 Service Manual: Troubleshooting
Troubleshooting Trouble SymptomProbable causeRemedyVehicle pulls to one sideScoring of driveshaft ball jointReplaceWear, rattle or scoring of wheel bearingReplaceDefective front suspension and steeringAdjustment or ReplaceVibrationWear, damage or bending of driveshaftReplaceDriveshaft rattle an ...
Hyundai Tucson (LM) 2010-2015 Service Manual: Fuel Filler Cap Description and Operation
Description A ratchet tightening device on the threaded fuel filler cap reduces the chances of incorrect installation, which seals the fuel filler. After the gasket on the fuel filler cap and the filler neck flange contact each other, the ratchet produces a loud clicking noise indicating ...