Hyundai Tucson: CD Player : AC111TMAN, AC110TMAN / Media mode
Pressing the

key will change the operating mode in order of CD➟USB(iPod®)➟AUX➟My Music ➟ BT Audio.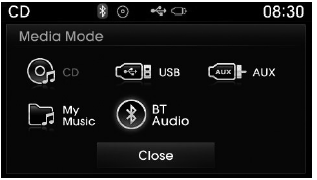 If [Mode Pop up] is turned on within


[Display], then pressing the

key will display the Media Pop-up Mode screen.
Turn the
TUNE knob to move the focus. Press the knob to select.
✽ NOTICE
The media mode pop up screen can be displayed only when there are two or more media modes turned on.
Title Icon
When a Bluetooth® Wireless Technology, iPod®, USB, or AUX device is connected or a CD is inserted, the corresponding mode icon will be displayed.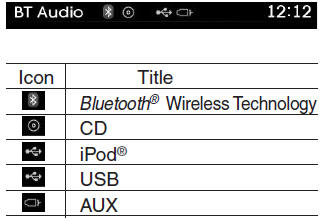 1. Mode Display Displays currently operating mode. 2. Channel Information Displays the category, channel number, channel name, artist and title information. 3. Preset Displays currently playin ...
Other information:
Hyundai Tucson (LM) 2010-2015 Service Manual: Description and Operation
Warning Lamp Activation Warning Lamp Behavior after Ignition On As soon as the operating voltage is applied to the SRSCM ignition input, the SRSCM activates the warning lamp for a LED lamp check. The lamp shall turn on for 6 seconds during the initialization phase and be turned off afterw ...
Hyundai Tucson (LM) 2010-2015 Owners Manual: Front windshield washers
In the OFF position, pull the lever gently toward you to spray washer fluid on the windshield and to run the wipers 1- 3 cycles. The spray and wiper operation will continue until you release the lever. If the washer does not work, you may need to add washer fluid to the washer fluid reservo ...