Hyundai Tucson: CD Player : AC111TMAN, AC110TMAN / Media mode
Pressing the

key will change the operating mode in order of CD➟USB(iPod®)➟AUX➟My Music ➟ BT Audio.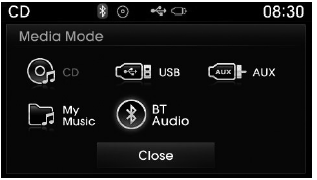 If [Mode Pop up] is turned on within


[Display], then pressing the

key will display the Media Pop-up Mode screen.
Turn the
TUNE knob to move the focus. Press the knob to select.
✽ NOTICE
The media mode pop up screen can be displayed only when there are two or more media modes turned on.
Title Icon
When a Bluetooth® Wireless Technology, iPod®, USB, or AUX device is connected or a CD is inserted, the corresponding mode icon will be displayed.