Hyundai Tucson: Hydraulic System / Oil Pump Description and Operation
The oil pump is built-in as a single unit with the 2/6 brake chamber. Rotation of the pump builds the hydraulic pressure needed for the lubrication of the various parts of the transaxle and operation of the clutch and brakes. The oil also circulates through the torque converter and the cooler.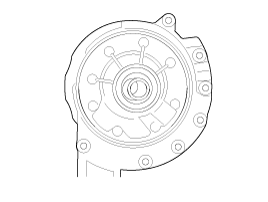 Inspection Radiator Cap Testing 1. Remove the radiator cap, wet its seal with engine coolant, and then install it on a pressure tester. 2. Apply a pressure of 93.16 ~ 122.58 kPa (0.95 ~ 1.25 ...
Components 1. Reaction shaft support assembly2. Oil pump housing3. Driven gear4. Drive gear5. Oil seal6. Bushing-housing7. Reaction shaft8. Bushing-reaction shaft9. Sleeve10. Flange bolt Oil P ...
Other information:
Hyundai Tucson (LM) 2010-2015 Service Manual: Brake Pedal Repair procedures
Removal 1. Remove the crash pad lower panel. (Refer to Body - "Crash Pad") 2. Pull down steering column shaft after removing bolts and nuts. 3. Disconnect the stop lamp switch connector (A). 4. Remove the brake pedal member mounting nuts (B). Tightening torque: 16.7 ~ 25.5 N.m ( ...
Hyundai Tucson (LM) 2010-2015 Service Manual: Speakers Repair procedures
Inspection 1. Troubleshooting for Speaker (1) Basic inspection of speaker Inspect the sound from speaker after verifying that the speaker mounting screws are removed and the wiring connector is connected to remove any possible vibration transmitted from body trims and surrounding parts. ...
© 2010-2020 www.htmanual.net