Hyundai Tucson: Hydraulic System / Oil Pump Description and Operation
The oil pump is built-in as a single unit with the 2/6 brake chamber. Rotation of the pump builds the hydraulic pressure needed for the lubrication of the various parts of the transaxle and operation of the clutch and brakes. The oil also circulates through the torque converter and the cooler.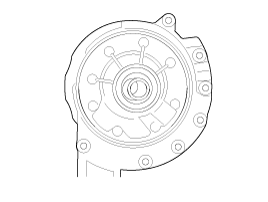 Inspection Radiator Cap Testing 1. Remove the radiator cap, wet its seal with engine coolant, and then install it on a pressure tester. 2. Apply a pressure of 93.16 ~ 122.58 kPa (0.95 ~ 1.25 ...
Components 1. Reaction shaft support assembly2. Oil pump housing3. Driven gear4. Drive gear5. Oil seal6. Bushing-housing7. Reaction shaft8. Bushing-reaction shaft9. Sleeve10. Flange bolt Oil P ...
Other information:
Hyundai Tucson (LM) 2010-2015 Owners Manual: Reclining seatback
Sitting in a reclined position when the vehicle is in motion can be dangerous. Even when buckled up, the protection of your restraint system (seat belts and air bags) is greatly reduced by reclining your seatback. WARNING NEVER ride with a reclined seatback when the vehicle is moving. Riding w ...
Hyundai Tucson (LM) 2010-2015 Owners Manual: Air cleaner
Filter replacement The air cleaner filter can be cleaned for inspection using compressed air. Do not attempt to wash or to rinse it, as water will damage the filter. If soiled, the air cleaner filter must be replaced. 1. Loosen the air cleaner cover attaching clips and open the cover. ...
© 2010-2023 www.htmanual.net