Hyundai Tucson: Smart Key System / Smart Key Unit Components and Components Location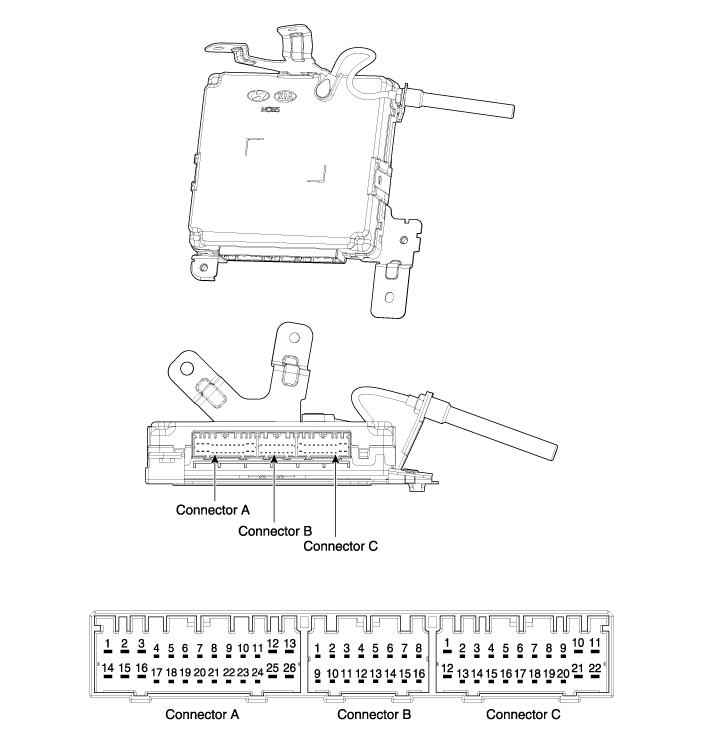 Connector Pin Information
No.




Connector A




Connector B




Connector C




1




V_BAT load




C_CAN Low




SSB illumination ground




2




-




C_CAN High




Immo indicator




3




Power ground1




-




-




4




IGN1




Stop lamp fuse




Interior antenna #2 power




5




IGN1 relay




Brake switch




Interior antenna #1 power




6




ACC




Immobilizer antenna power




-




7




IGN2




-




-




8




SSB switch2




Wheel speed




Interior antenna #3 power




9




-




Driver toggle button




Bumper antenna power




10




-




-




Passenger side antenna power




11




-




External buzzer




Driver side antenna power




12




B_CAN High




P position/ Clutch switch




SSB LED IGN




13




B_CAN Low




Start feedback




SSB illumination power




14




V_BAT CPU




Immobilizer antenna ground




-




15




-




-




Interior antenna #2 ground




16




Power ground2




SSB LED ACC




Interior antenna #1 ground




17




Starter relay




x




-




18




IGN2 relay




-




19




ACC relay




Interior antenna #3 power




20




-




Bumper antenna ground




21




-




Passenger side antenna ground




22




-




Driver side antenna ground




23




RPM




x




24




EMS COM




25




SSB switch1




26




Assistant toggle button



Smart Key Smart Key Code Saving 1. Connect the DLC cable of GDS to the data link connector (16 pins) in driver side crash pad lower panel, turn the power on GDS. 2. Select the vehicle model a ...
Other information:
Hyundai Tucson (LM) 2010-2015 Owners Manual: Manual heating and air conditioning
The heating and cooling system can be controlled manually by pushing buttons or turning knob(s) other than the AUTO button. In this case, the system works sequentially according to the order of buttons or knob(s) selected. ✽ NOTICE When pressing any button (or turning any knob) except the AU ...
Hyundai Tucson (LM) 2010-2015 Owners Manual: Snow tires
WARNING Snow tires should be equivalent in size and type to the vehicle's standard tires. Otherwise, the safety and handling of your vehicle may be adversely affected. If you mount snow tires on your vehicle, make sure to use radial tires of the same size and load range as the original tires ...
© 2010-2021 www.htmanual.net