Hyundai Tucson: Ignition System / Spark Plug Description and Operation
A spark plug is a device for delivering electric current from an ignition system to the combustion chamber of a spark-ignition engine to ignite the compressed fuel/air mixture therein by means of an electric spark, while containing combustion pressure within the engine. A spark plug has a metal threaded shell, electrically isolated from a central electrode by a porcelain insulator.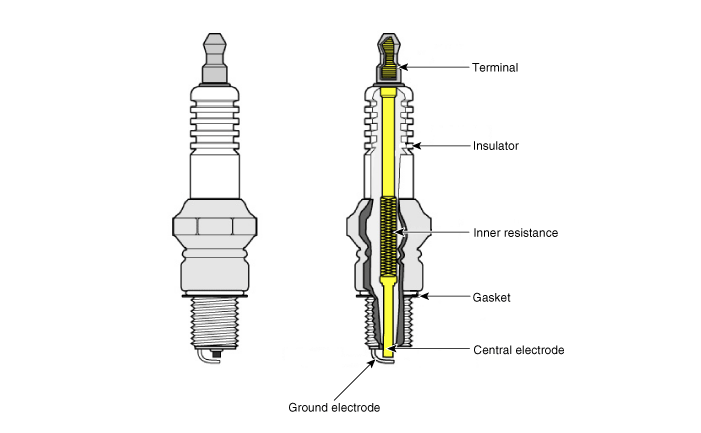 Removal 1. Disconnect the battery nagative terminal. 2. Remove the engine cover. 3. Disconnect the ignition coil connectors (A). • When removing the ignition co ...
Specification ItemSpecificationTypeSILZKR7B11Gap1.0 ~ 1.1(0.0394 ~ 0.0433) ...
Other information:
Hyundai Tucson (LM) 2010-2015 Service Manual: Oil Cooler Repair procedures
Inspection Radiator Cap Testing 1. Remove the radiator cap, wet its seal with engine coolant, and then install it on a pressure tester. 2. Apply a pressure of 93.16 ~ 122.58 kPa (0.95 ~ 1.25 kgf/cmx, 13.51 ~ 17.78 psi). 3. Check for a drop in pressure. 4. If the pressure drops, re ...
Hyundai Tucson (LM) 2010-2015 Owners Manual: Trip Modes
Push the button to select the following modes: Tripmeter This mode indicates the distance of individual trips selected since the last tripmeter reset. The meter's working range is from 0.0 to 999.9 miles (0.0 to 9999.9 km). Pressing the TRIP button for more than 1 second, whe ...
© 2010-2022 www.htmanual.net