Hyundai Tucson: Ignition System / Spark Plug Description and Operation
A spark plug is a device for delivering electric current from an ignition system to the combustion chamber of a spark-ignition engine to ignite the compressed fuel/air mixture therein by means of an electric spark, while containing combustion pressure within the engine. A spark plug has a metal threaded shell, electrically isolated from a central electrode by a porcelain insulator.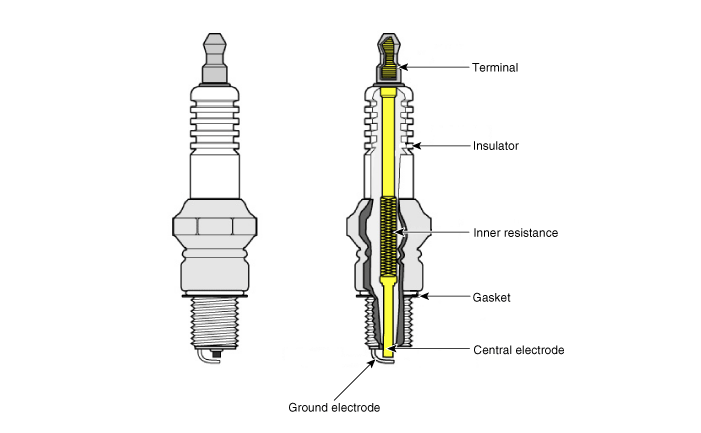 Removal 1. Disconnect the battery nagative terminal. 2. Remove the engine cover. 3. Disconnect the ignition coil connectors (A). • When removing the ignition co ...
Specification ItemSpecificationTypeSILZKR7B11Gap1.0 ~ 1.1(0.0394 ~ 0.0433) ...
Other information:
Hyundai Tucson (LM) 2010-2015 Owners Manual: Scheduled maintenance services
Follow Normal Maintenance Schedule if the vehicle is usually operated where none of the following conditions apply. If any of the following conditions apply, you must follow the Maintenance Under Severe Usage Conditions. Repeated short distance driving. Driving in dusty conditions or sandy ...
Hyundai Tucson (LM) 2010-2015 Owners Manual: Changing Priority
What is Priority? It is possible to pair up to five Bluetooth® Wireless Technology devices with the car audio system. The "Change Priority" feature is used to set the connection priority of paired phones. Press the key Select [Phone] Select [Paired Phone List] From the paired phone li ...
© 2010-2019 www.htmanual.net