Hyundai Tucson: Tire Pressure Monitoring System / TPMS Sensor Description and Operation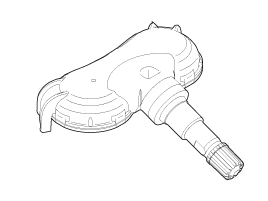 1.

(1)

| | |
| --- | --- |
| A. | All sensors should be in the Low Line (Base) state. |

| | |
| --- | --- |
| B. | In Low Line (Base) configuration, sensor transmissions occur every 3 minutes 20 seconds (nominal) and pressure is measured every 20 seconds. |

(2)

| | |
| --- | --- |
| A. | Sensor transmissions continue at the Low Line (Base) configuration defined rates until the state is either changed by LF command or by the sensor detecting a condition that requires a temporary change to another state. |

| | |
| --- | --- |
| B. | The LF command to this state must contain the sensors ID. |

(3)

| | |
| --- | --- |
| A. | This state is a Low current consumption state. |

| | |
| --- | --- |
| B. | Sensors are in this state when they first arrive at the dealership (either on the vehicle or as replacement spares). |

| | |
| --- | --- |
| C. | In this state, the sensor does not measure pressure / temperature / battery level. |

| | |
| --- | --- |
| D. | The sensor will not transmit in this state unless requested to do so by the initiate command. |

(4)

| | |
| --- | --- |
| A. | The sensor automatically enters this state if the measured temperature exceeds 230 °F(110 °C) and over temperature shutdown is likely. |

| | |
| --- | --- |
| B. | In this state, pressure is measured every 4 seconds and RF data transmitted every 4 seconds. |

| | |
| --- | --- |
| C. | The state lasts for 1 minute if it is pressure triggered. |

| | |
| --- | --- |
| D. | This state is alse entered when a 3 psi change in pressure from the last RF transmission occurs. |
Description TREAD Lamp - Tire Under Inflation / Leak Warning. 1. Turn on condition A. When tire pressure is below allowed threshold B. When rapid leak is detected by the sensor. C. ...
Removal Tire Removal 1. Deflate tire & remove balance weights. Sensor can be unscrewed before unseating the tire bead. • The tire bead sho ...
Other information:
Hyundai Tucson (LM) 2010-2015 Owners Manual: Exterior overview
1. Panoramic sunroof 2. Front windshield wiper blades 3. Outside rearview mirror 4. Door locks 5. Headlight 6. Front fog light 7. Hood 8. Tires and wheels 1. Antenna 2. Defroster 3. Fuel filler door 4. Towing hook 5. Rear combination lamp 6. Rear window wiper blade 7. High mounted ...
Hyundai Tucson (LM) 2010-2015 Service Manual: Power Mosfet Repair procedures
Inspection 1. Ignition "ON" 2. 2. Manually operate the control switch and measure the voltage of blower motor. 3. Select the control switch to raise voltage until high speed. Specification FanMotor VoltageManualFirst speed4.0 ±0.5VSecond speed5.1 ±0.5VThird speed6.2 ±0.5VFourth spee ...
© 2010-2019 www.htmanual.net