Hyundai Tucson: Exterior lights / Turn signals and lane change signals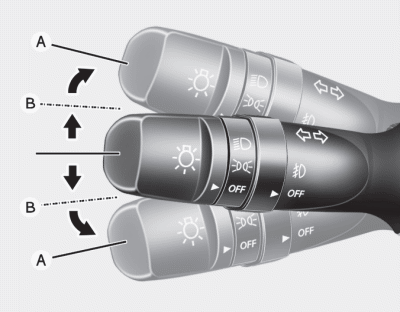 To signal a turn, move the lever up for a right turn or down for a left turn to position (A). The lever will return to the OFF position when the turn is completed.
To signal a lane change, move the lever slightly and hold it in position (B). The lever will return to the OFF position when released.
One-touch lane change function (if equipped)
To activate a one-touch triple turn signal, move the turn signal lever slightly and then release it. The lane change signals will blink 3 times.
CAUTION
If the turn signal indicator stays on and does not flash, or if it flashes abnormally, a bulb may be burned out or have a poor electrical connection in the circuit. The bulb may require replacement.
When the headlight switch is in the ON position or in the AUTO position and all doors (and tailgate) are closed and locked, if you press the door unlock button on the remote transmitter or smart k ...
Fog lights are used to provide improved visibility when conditions are poor due to fog, rain, snow, etc. Use the switch next to the headlight switch to turn the Fog Lights ON and OFF. The fog ...
Other information:
Hyundai Tucson (LM) 2010-2015 Owners Manual: Fuses
A vehicle's electrical system is protected from electrical overload damage by fuses. This vehicle has 2 (or 3) fuse panels, one located in the driver's side panel bolster, the other in the engine compartment near the battery. If any of your vehicle's lights, accessories, or controls do ...
Hyundai Tucson (LM) 2010-2015 Service Manual: Repair procedures
Replacement Problems And Replacement Parts: ProblemPart setScan tool requiredxAll keys have been lostBlank key (4)YESAntenna coil unit does not workAntenna coil unitNOECM does not workPCM(ECM)YESIgnition switch does not workIgnition switch with Antenna coil unitYESUnidentified vehicle specific d ...