Hyundai Tucson: AVN System / External Amplifier Components and Components Location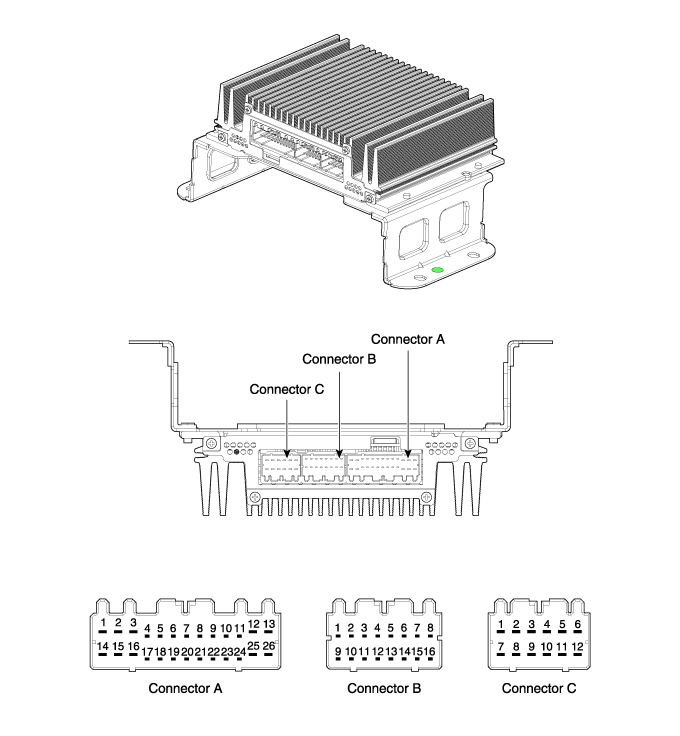 Connector Pin Information
No.




Connector A (26 pin)




Connector B (16 pin)




Connector C (12 pin)




1




Battery +




Right surround speaker +




Rear right door +




2




Battery +




Left surround speaker +




Rear left door speaker +




3




Battery +




-




Front right tweeter speaker +




4




-




-




Front left tweeter speaker +




5




CAN +




-




Front right door speaker +




6




CAN -




-




Front left door speaker +




7




ACC




Front center speaker +




Rear right door speaker -




8




-




-




Rear left door speaker -




9




-




Right surround speaker -




Front right tweeter speaker -




10




-




Left surround speaker -




Front left tweeter speaker -




11




Navigation voice +




-




Front right door speaker -




12




Subwoofer 2 +




-




Front left door speaker -




13




Subwoofer 1 +




-




x




14




Ground




-




15




Ground




Front center speaker -




16




Ground




-




17




-




x




18




SPDIF +




19




SPDIF -




20




SPDIF ground




21




-




22




-




23




-




24




Navigation voice -




25




Subwoofer 2 -




26




Subwoofer 1 -



Inspection 1. Troubleshooting for Speaker (1) Basic inspection of speaker Inspect the sound from speaker after verifying that the speaker mounting screws are removed and the wiring connector ...
Removal External Amplifier 1. Remove the rear right luggage side trim. (Refer to Body - "Interior Trim") 2. Remove the external amplifier (B) after disconnecting the connectors (A) and loose ...
Other information:
Hyundai Tucson (LM) 2010-2015 Service Manual: Compressor Repair procedures
Removal 1. If the compressor is marginally operable, run the engine at idle speed, and let the air conditioning work for a few minutes, then shut the engine off. 2. Disconnect the negative cable from the battery. 3. Recover the refrigerant with a recovery/charging station. 4. Loo ...
Hyundai Tucson (LM) 2010-2015 Owners Manual: Good braking practices
WARNING Whenever leaving the vehicle or parking, always come to a complete stop and continue to depress the brake pedal. Move the shift lever into the P (Park) position, then apply the parking brake, and place the ignition switch in the LOCK/OFF position. Vehicles with the parking brake not f ...
© 2010-2020 www.htmanual.net