Hyundai Tucson: AVN System / External Amplifier Components and Components Location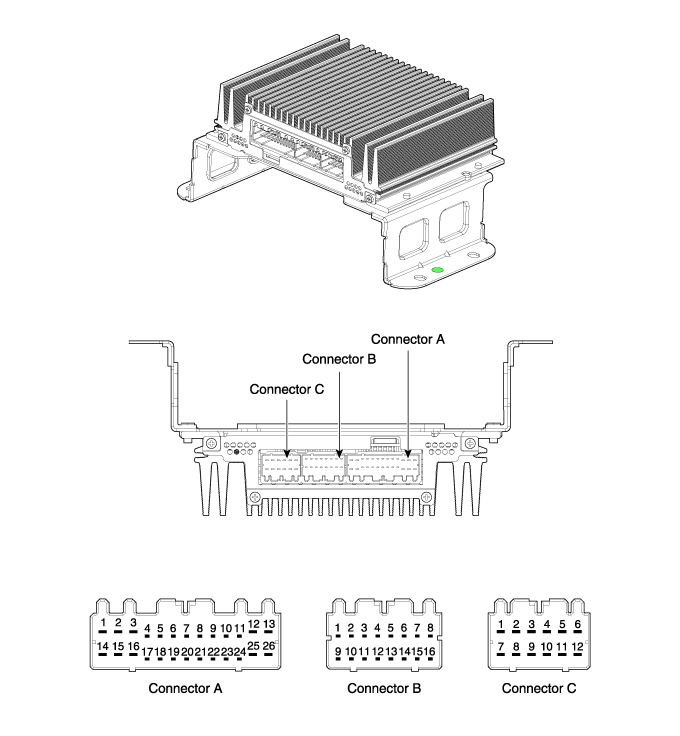 Connector Pin Information
No.




Connector A (26 pin)




Connector B (16 pin)




Connector C (12 pin)




1




Battery +




Right surround speaker +




Rear right door +




2




Battery +




Left surround speaker +




Rear left door speaker +




3




Battery +




-




Front right tweeter speaker +




4




-




-




Front left tweeter speaker +




5




CAN +




-




Front right door speaker +




6




CAN -




-




Front left door speaker +




7




ACC




Front center speaker +




Rear right door speaker -




8




-




-




Rear left door speaker -




9




-




Right surround speaker -




Front right tweeter speaker -




10




-




Left surround speaker -




Front left tweeter speaker -




11




Navigation voice +




-




Front right door speaker -




12




Subwoofer 2 +




-




Front left door speaker -




13




Subwoofer 1 +




-




x




14




Ground




-




15




Ground




Front center speaker -




16




Ground




-




17




-




x




18




SPDIF +




19




SPDIF -




20




SPDIF ground




21




-




22




-




23




-




24




Navigation voice -




25




Subwoofer 2 -




26




Subwoofer 1 -



Inspection 1. Troubleshooting for Speaker (1) Basic inspection of speaker Inspect the sound from speaker after verifying that the speaker mounting screws are removed and the wiring connector ...
Removal External Amplifier 1. Remove the rear right luggage side trim. (Refer to Body - "Interior Trim") 2. Remove the external amplifier (B) after disconnecting the connectors (A) and loose ...
Other information:
Hyundai Tucson (LM) 2010-2015 Owners Manual: Driving with a trailer
Towing a trailer requires a certain amount of experience. Before setting out for the open road, you must get to know your trailer. Acquaint yourself with the feel of handling and braking with the added weight of the trailer. And always keep in mind that the vehicle you are driving is now longe ...
Hyundai Tucson (LM) 2010-2015 Owners Manual: High beam operation
To turn on the high beam headlights, push the lever away from you. Pull it back for low beams. The high beam indicator will light when the headlight high beams are switched on. WARNING Do not use the high beams when there are other vehicles approaching you. Using high beam could obstruc ...
© 2010-2021 www.htmanual.net