Hyundai Tucson: AVN System / External Amplifier Components and Components Location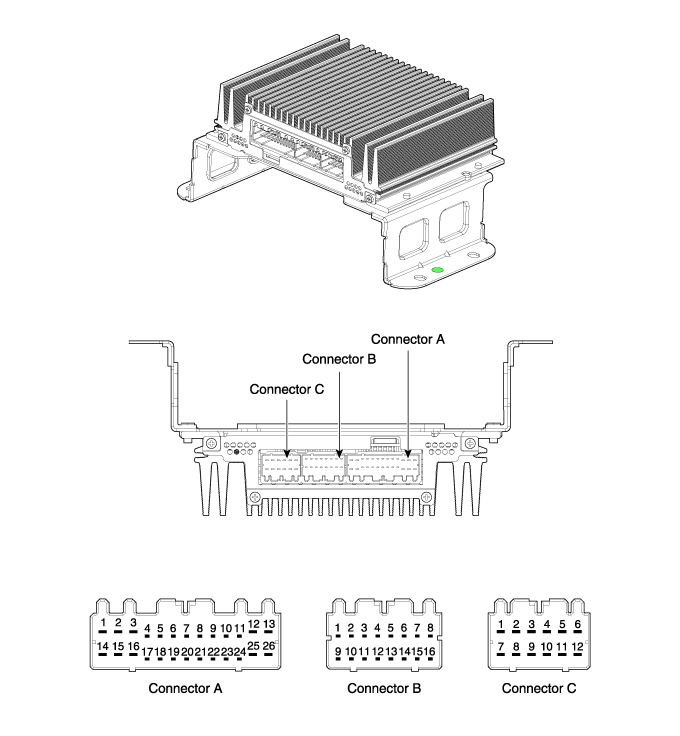 Connector Pin Information
No.




Connector A (26 pin)




Connector B (16 pin)




Connector C (12 pin)




1




Battery +




Right surround speaker +




Rear right door +




2




Battery +




Left surround speaker +




Rear left door speaker +




3




Battery +




-




Front right tweeter speaker +




4




-




-




Front left tweeter speaker +




5




CAN +




-




Front right door speaker +




6




CAN -




-




Front left door speaker +




7




ACC




Front center speaker +




Rear right door speaker -




8




-




-




Rear left door speaker -




9




-




Right surround speaker -




Front right tweeter speaker -




10




-




Left surround speaker -




Front left tweeter speaker -




11




Navigation voice +




-




Front right door speaker -




12




Subwoofer 2 +




-




Front left door speaker -




13




Subwoofer 1 +




-




x




14




Ground




-




15




Ground




Front center speaker -




16




Ground




-




17




-




x




18




SPDIF +




19




SPDIF -




20




SPDIF ground




21




-




22




-




23




-




24




Navigation voice -




25




Subwoofer 2 -




26




Subwoofer 1 -



Inspection 1. Troubleshooting for Speaker (1) Basic inspection of speaker Inspect the sound from speaker after verifying that the speaker mounting screws are removed and the wiring connector ...
Removal External Amplifier 1. Remove the rear right luggage side trim. (Refer to Body - "Interior Trim") 2. Remove the external amplifier (B) after disconnecting the connectors (A) and loose ...
Other information:
Hyundai Tucson (LM) 2010-2015 Service Manual: Accelerator Pedal Repair procedures
Removal 1. Turn the ignition switch OFF and disconnect the negative (-) battery cable. 2. Disconnect the accelerator position sensor connector (A). 3. Remove the installation nuts (B), the bolt (C) and then remove the accelerator pedal module. Installation 1. Install in the revers ...
Hyundai Tucson (LM) 2010-2015 Owners Manual: Seat warmers
Seat warmers are provided to warm the seats during cold weather. WARNING The seat warmers can cause a SERIOUS BURN, even at low temperatures and especially if used for long periods of time. Passengers must be able to feel if the seat is becoming too warm so they can turn it off, if needed. Peo ...
© 2010-2020 www.htmanual.net