Hyundai Tucson: AVN System / External Amplifier Components and Components Location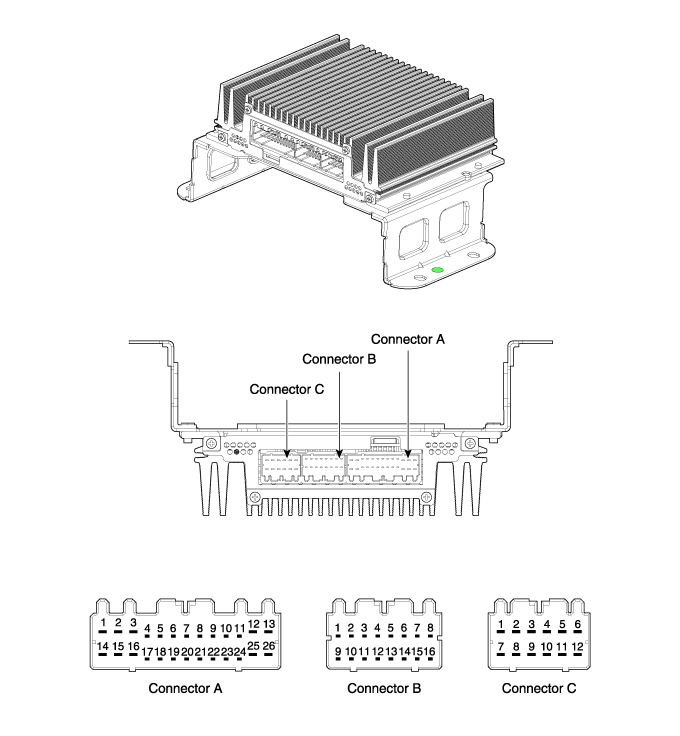 Connector Pin Information
No.




Connector A (26 pin)




Connector B (16 pin)




Connector C (12 pin)




1




Battery +




Right surround speaker +




Rear right door +




2




Battery +




Left surround speaker +




Rear left door speaker +




3




Battery +




-




Front right tweeter speaker +




4




-




-




Front left tweeter speaker +




5




CAN +




-




Front right door speaker +




6




CAN -




-




Front left door speaker +




7




ACC




Front center speaker +




Rear right door speaker -




8




-




-




Rear left door speaker -




9




-




Right surround speaker -




Front right tweeter speaker -




10




-




Left surround speaker -




Front left tweeter speaker -




11




Navigation voice +




-




Front right door speaker -




12




Subwoofer 2 +




-




Front left door speaker -




13




Subwoofer 1 +




-




x




14




Ground




-




15




Ground




Front center speaker -




16




Ground




-




17




-




x




18




SPDIF +




19




SPDIF -




20




SPDIF ground




21




-




22




-




23




-




24




Navigation voice -




25




Subwoofer 2 -




26




Subwoofer 1 -



Inspection 1. Troubleshooting for Speaker (1) Basic inspection of speaker Inspect the sound from speaker after verifying that the speaker mounting screws are removed and the wiring connector ...
Removal External Amplifier 1. Remove the rear right luggage side trim. (Refer to Body - "Interior Trim") 2. Remove the external amplifier (B) after disconnecting the connectors (A) and loose ...
Other information:
Hyundai Tucson (LM) 2010-2015 Service Manual: Specifications
Specifications Smart Key Unit ItemsSpecificationRated voltageDC 12VOperating voltageDC 9 ~ 16VOperating temperature-22°F ~ 167°F (-30°C ~ 75°C)LoadMax. 5mA (When welcome light function off) RF Receiver ItemsSpecificationFrequency433 MhzAntenna typeFSK (Frequency Shift Keying) Smart Ke ...
Hyundai Tucson (LM) 2010-2015 Service Manual: Panoramaroof Motor Repair procedures
Replacement 1. Disconnect the negative (-) battery terminal. 2. Remove the roof trim. (Refer to the BD group - "Roof trim") 3. Remove the panoramaroof motor (A) after disconnecting the connector (10 Pin). 4. Ground the terminals as below table, and check that the panoramaroof unit o ...
© 2010-2019 www.htmanual.net