Hyundai Tucson: Controller / Heater & A/C Control Unit(Manual) Components and Components Location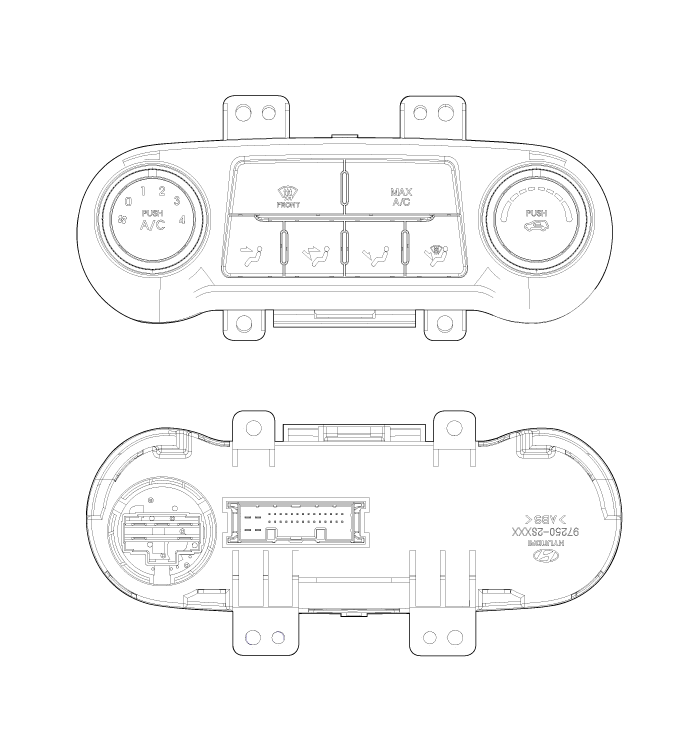 Connector Pin Function
Connector




Pin No




Function




Connector




Pin NO




Function




Connector(A)




1




Middle High




Connector(B)




1




Tail Lamp (ILL+)




2




-




2




Battery




3




GND




3




Mode Actuator (VENT)




4




High




4




Mode Actuator (DEF)




5




Middle Low




5




Temp Actuator (COOL)




6




Low




6




Temp Actuator (WARM)




x




7




Intake Actuator (FRE)




8




Intake Actuator (REC)




9




-




10




-




11




Mode Actuator (F/B)




12




Temp Actuator (F/B)




13




Intake Actuator (F/B)




14




Blower Motor Common (-)




15




Blower F/B




16




Rheostat (ILL-)




17




IG2




18




-




19




Can (HIGH)




20




Can (LOW)




21




-




22




ECV IN




23




ECV OUT




24




-




25




Vref (+5V)




26




Evaporator Sensor




27




Ambient Sensor




28




-




29




-




30




-




31




Sensor GND




32




GND



Replacement 1. Disconnect the negative (-) battery terminal. 2. Remove the console upper cover (A). 3. Using the screwdriver, remove the center facia lower cover (A). 4. Using the ...
Other information:
Hyundai Tucson (LM) 2010-2015 Owners Manual: TPMS Malfunction Indicator
The TPMS Malfunction Indicator comes on after it blinks for approximately one minute when there is a problem with the Tire Pressure Monitoring System. Have the system checked by an authorized HYUNDAI dealer as soon as possible to determine the cause of the problem. ✽ NOTICE The TPMS Malfu ...
Hyundai Tucson (LM) 2010-2015 Service Manual: Repair procedures
Replacement Problems And Replacement Parts: ProblemPart setScan tool requiredxAll keys have been lostBlank key (4)YESAntenna coil unit does not workAntenna coil unitNOECM does not workPCM(ECM)YESIgnition switch does not workIgnition switch with Antenna coil unitYESUnidentified vehicle specific d ...
© 2010-2020 www.htmanual.net