Hyundai Tucson: Cruise control operation / To set cruise control speed
1.Push the cruise ON/OFF button on the steering wheel to turn the system on. The CRUISE indicator will illuminate.
2.Accelerate to the desired speed, which must be more than 25 mph (40 km/h).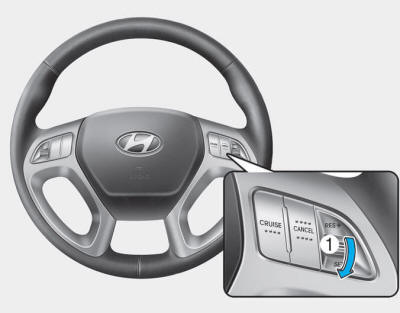 3.Push the lever (1) down (to SET-) , and release it. The SET indicator light will illuminate.
4.Release the accelerator pedal.
✽ NOTICE
The vehicle may slow down or speed up slightly while going uphill or downhill.
1.CRUISE indicator 2.SET indicator The cruise control system allows you to drive at speeds above 25 mph (40 km/h) without depressing the accelerator pedal. WARNING Take the following precaut ...
Push the lever (1) up (to RES+) and hold it, while monitoring the SET speed on the instrument cluster. Release the lever when the desired speed is shown and the vehicle will accelerate to ...