Hyundai Tucson: Cruise control system / Cruise control operation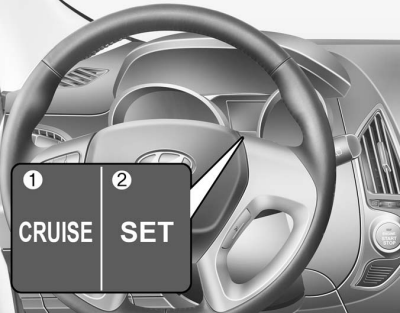 1.CRUISE indicator
2.SET indicator
The cruise control system allows you to drive at speeds above 25 mph (40 km/h) without depressing the accelerator pedal.
WARNING
Take the following precautions:
If the cruise control is left on, (CRUISE indicator light in the instrument cluster illuminated) the cruise control can be activated unintentionally. Keep the cruise control system off (CRUISE indicator light OFF) when the cruise control is not in use, to avoid inadvertently setting a speed.
Use the cruise control system only when traveling on open highways in good weather.
Do not use the cruise control when it may not be safe to keep the vehicle at a constant speed: Driving in heavy or varying speed traffic. On slippery (rainy, icy or snow covered) roads. Hilly or winding roads. Very windy areas.
© 2010-2023 www.htmanual.net