Hyundai Tucson: Cruise control system / Cruise control operation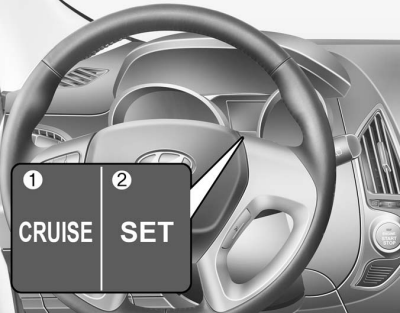 1.CRUISE indicator
2.SET indicator
The cruise control system allows you to drive at speeds above 25 mph (40 km/h) without depressing the accelerator pedal.
WARNING
Take the following precautions:
If the cruise control is left on, (CRUISE indicator light in the instrument cluster illuminated) the cruise control can be activated unintentionally. Keep the cruise control system off (CRUISE indicator light OFF) when the cruise control is not in use, to avoid inadvertently setting a speed.
Use the cruise control system only when traveling on open highways in good weather.
Do not use the cruise control when it may not be safe to keep the vehicle at a constant speed: Driving in heavy or varying speed traffic. On slippery (rainy, icy or snow covered) roads. Hilly or winding roads. Very windy areas.
1.Push the cruise ON/OFF button on the steering wheel to turn the system on. The CRUISE indicator will illuminate. 2.Accelerate to the desired speed, which must be more than 25 mph (40 km/h). ...
Other information:
Hyundai Tucson (LM) 2010-2015 Owners Manual: Features of your vehicle
Satellite radio reception You may experience difficulties in receiving XM satellite™ radio signals in the following situations. If you are driving in a tunnel or a covered parking area. If you are driving beneath the top level of a multi-level freeway. If you are driving under a bridg ...
Hyundai Tucson (LM) 2010-2015 Owners Manual: Ignition switch
WARNING To reduce the risk of SERIOUS INJURY or DEATH, take the following precautions: NEVER allow children or any person who is unfamiliar with the vehicle to touch the ignition switch or related parts. Unexpected and sudden vehicle movement can occur. NEVER reach through the steering ...
© 2010-2019 www.htmanual.net