Hyundai Tucson: Cruise control system / Cruise control operation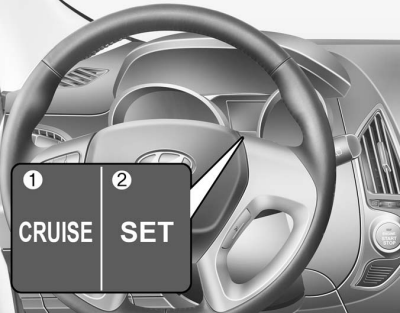 1.CRUISE indicator
2.SET indicator
The cruise control system allows you to drive at speeds above 25 mph (40 km/h) without depressing the accelerator pedal.
WARNING
Take the following precautions:
If the cruise control is left on, (CRUISE indicator light in the instrument cluster illuminated) the cruise control can be activated unintentionally. Keep the cruise control system off (CRUISE indicator light OFF) when the cruise control is not in use, to avoid inadvertently setting a speed.
Use the cruise control system only when traveling on open highways in good weather.
Do not use the cruise control when it may not be safe to keep the vehicle at a constant speed: Driving in heavy or varying speed traffic. On slippery (rainy, icy or snow covered) roads. Hilly or winding roads. Very windy areas.
1.Push the cruise ON/OFF button on the steering wheel to turn the system on. The CRUISE indicator will illuminate. 2.Accelerate to the desired speed, which must be more than 25 mph (40 km/h). ...
Other information:
Hyundai Tucson (LM) 2010-2015 Owners Manual: Unlocking
To unlock: 1. Carry the Smart Key. 2. Either press the door handle button or press the Door Unlock button (2) on the smart key. 3. The driver's door will unlock. The hazard warning lights will blink two times. ✽ NOTICE The door handle button will only operate when the smart key is ...
Hyundai Tucson (LM) 2010-2015 Owners Manual: Battery saver function
The purpose of this feature is to prevent the battery from being discharged. The system automatically turns off the parking lights when the engine is turned off and the driverside door is opened (in that order). With this feature, the parking lights will be turned off automatically if the driv ...
© 2010-2019 www.htmanual.net