Hyundai Tucson: Rear seats / Armrest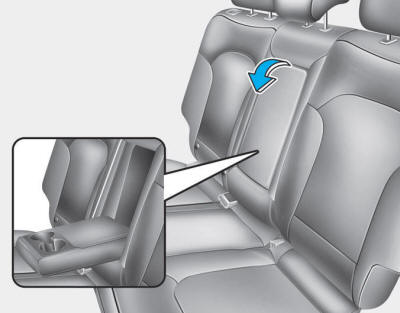 The armrest is located in the center of the rear seat. Pull the armrest down from the seatback to use it.
You will find cup holders on the center armrest.
Seatback angle To recline the seatback: 1. Pull up the seatback lever. 2. Hold the lever and adjust the seatback to the position you desire. 3. Release the lever and make sure the seatback is ...
The vehicle's front and rear seats have adjustable headrests.The headrests provide comfort for passengers, but more importantly they are designed to help protect passengers from whiplash and oth ...
Other information:
Hyundai Tucson (LM) 2010-2015 Service Manual: Front Seat Components and Components Location
Components 1. Headrest2. Headrest guide3. Seat back cover4. Seat back heater5. Seat back pad6. Power rumber support assembly7. Seat cushion cover8. Seat cushion heater9. Seat cushion pad10. Shield inner cover11. Front seat buckle12. Seat cushion frame assembly13. Connector bracket LH14. Shield ...
Hyundai Tucson (LM) 2010-2015 Service Manual: Troubleshooting
Troubleshooting Trouble SymptomProbable causeRemedyVehicle pulls to one sideScoring of driveshaft ball jointReplaceWear, rattle or scoring of wheel bearingReplaceDefective front suspension and steeringAdjustment or ReplaceVibrationWear, damage or bending of driveshaftReplaceDriveshaft rattle an ...
© 2010-2020 www.htmanual.net