Hyundai Tucson: Coupling Assembly / Direct Electro Hydraulic Actuator Coupling Repair procedures
All units are filled up with coupling fluid (ultra-low viscosity ATF) prior to shipping. Inspection, fill-up, and replacement of coupling fluid is therefore not necessary (zero maintenance, lifetime fluid).
Coupling Maintenance Precautions
Maintain the coupling at a horizontal level.
| | |
| --- | --- |
| • | Refer to the handling caution level (A) when servicing the coupling (removal, installation, replacement, etc.). |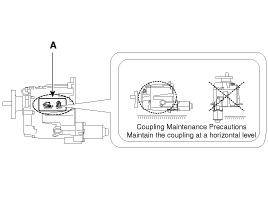 1.

Remove the 4WD coupling assembly bolts (A-3ea) mounted to the rear propeller shaft (B).

---

49.0~68.6N.m (5.0~7.0kgf.m, 36.2~50.6lb-ft)

---
| | |
| --- | --- |
| 2. | Using a flat tool, separate the propellar shaft from 4WD coupling assembly. |
| | |
| --- | --- |
| 3. | Disconnect the pressure sensor connector (A) and Oil hydraulic Motor connector (B). |
4.

Loosen the coupling assembly mounting bolts (A-4ea).

---

58.8~63.7N.m (6.0~6.5kgf.m, 43.4~47.0lb-ft)

---
| | |
| --- | --- |
| 5. | Using a flat tool, separate the 4WD coupling assembly from the rear differential carrier assembly. |
1.

Install in the reverse order of removal.

| | |
| --- | --- |
| • | Smear the splines (A) with molybdenum type high pressure grease. |

| | |
| --- | --- |
| • | When install the coupling, be careful not to damage the oil seal (B). |
2.

After replacing the coupling, reset the 4WD ECU's clutch learing using the GDS tool.

(Refer to 4WD Control System - "Adjustment")
© 2010-2023 www.htmanual.net