Hyundai Tucson: Cooling System / Radiator Components and Components Location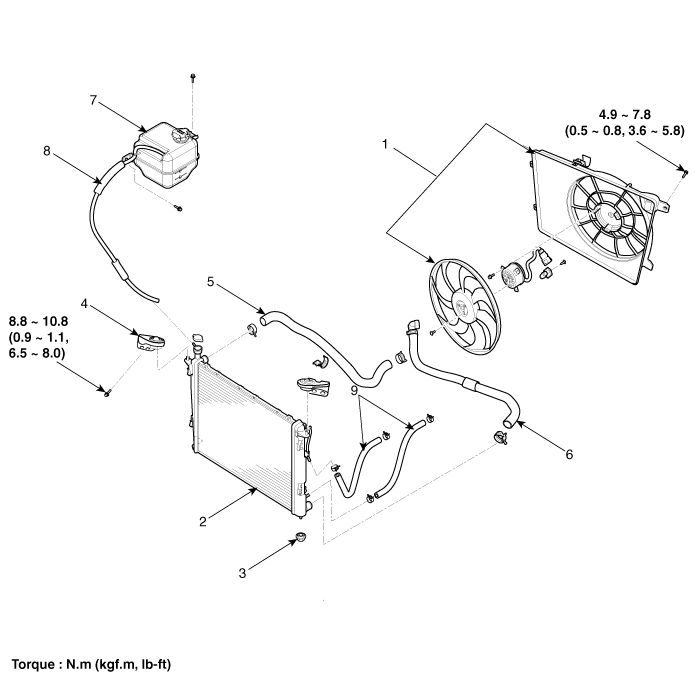 1. Cooling fan & shroud




2. Radiator




3. Radiator upper hose




4. Radiator lower hose




5. Mounting insulator




6. Reservoir tank




7. Fan motor



Refilling And Bleeding Never remove the radiator cap when the engine is hot. Serious scalding could be caused by hot fluid under high pressure escaping from the radiator. ...
Inspection Radiator Cap Testing 1. Remove the radiator cap, wet its seal with engine coolant, and then install it on a pressure tester. 2. Apply a pressure of 93.16~122.58 kPa (0.95~1.25 kgf/ ...
Other information:
Hyundai Tucson (LM) 2010-2015 Service Manual: Components and Components Location
Components Location 1. PCV valve2. Canister3. Purge control solenoid valve (PCSV)4. Fuel tank pressure sensor (FTPS)5. Canister close valve (CCV)6. Fuel level sender (FLS)7. Fuel tank air filter8. Catalytic converter (CCC Type) 1. PCV Valve2. Canister3. Purge Control Solenoid Valve ( ...
Hyundai Tucson (LM) 2010-2015 Owners Manual: Headlight escort function
If the key is removed from the ignition switch or placed in the ACC position or the LOCK/OFF position with the headlights ON, the headlights (and/or parking lights) remain on for about 5 minutes. However, if the driver's door is opened and closed, the headlights are turned off after 15 secon ...
© 2010-2019 www.htmanual.net